Like Pedaling in Concrete
This is the largest group we have ever had on the CEM, and we were actually supposed to have one more. Jack had intended to stay on this leg, but decided to leave early since he was having some problems with his pool at home. We didn't really intend for the group to be this large anyway; John and Dennis just lost control of the count. Johnny needs to move to the third leg. Sure! Jim needs to switch from the first to the third leg. Sure! Sherry is joining us in Lanesboro for the third leg. Sure! Thankfully Jim agreed to pitch a tent, so we would have enough sleeping accommodations.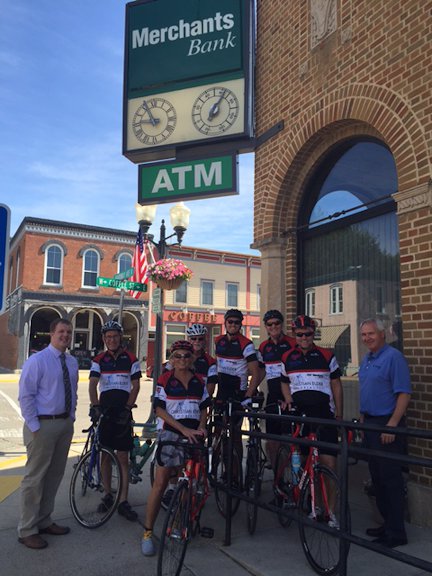 We awoke to another beautiful morning, rapidly warming in the morning sun. Jay made sausage and egg muffin sandwiches for breakfast, and then we all got ready, dressing in our matching 2017 jerseys. Jim fixed Brian's bike, so Brian could avoid a morning stop at a bike repair shop…Jim is a handy guy to have along on the ride! Ready to ride before 10:00, we pedaled into downtown and stopped for a few photos with the Lanesboro Merchants Bank employees, who wished us well and sent us down the trail.
We rode to the east today, stopping in Rushford at the 19-mile mark for snacks with Jay and Sherry. Then we continued on toward the end of the trail in Houston. Leaving after the rest of the CEM team, Jim and John rode through Rushford, and Jim rode straight into freshly poured concrete on the sidewalk. He was stuck instantly, but managed to step out and pull his bike with him without falling. Both tires were coated with a thick layer of quickly drying concrete, so they went straight to the hardware store and grabbed a hose to spray the bike, using their fingers to wipe the thick layer off. After the cleaning was completed, Jim fessed up to the nearby work crew, who were very understanding as they went back to re-do the surface. The work crew probably felt a little responsible for not marking this better. Jay went back later to take a photo so you could see just how easy it was to miss the warning signs.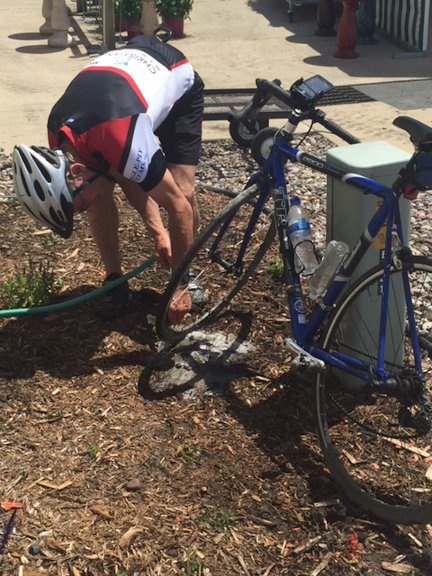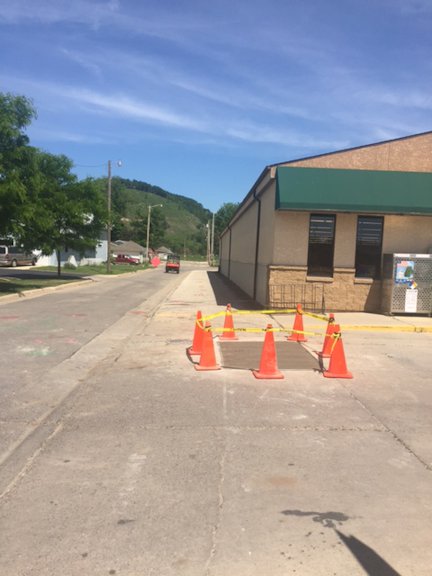 Johnny and Dennis were now 12 miles ahead of John and Jim, so they decided to ride some extra miles. Brian thought they were nuts…why would they want to do that?? It was a great day to ride, and the ride between Rushford and Houston is fabulous, one nice hill to climb near the end of the trail. That's why! Plus Johnny had ridden 75 miles a day earlier, and Dennis was NOT going to let that be the high mark of the ride.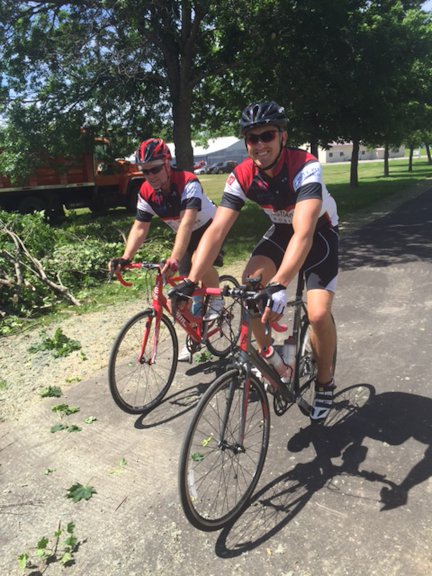 We rode back to the Lanesboro campground to complete our ride. Jay stopped to pick up some vanilla requested by Johnny and Dennis. The mosquitos might be virtually nonexistent here, but thick swarms of gnats have been attacking us nonstop. We told Jay that a little vanilla behind his ears will keep the gnats away. Jay thought he was getting set up, but he did indeed pick up the vanilla, pure vanilla, not the imitation kind. Back in camp, Johnny, Dennis and Jay put the vanilla on, so the gnats were attacking the others. One by one, everyone else did the same, and soon the gnats were leaving us alone. Look, we taught Jay something he didn't already know!!
Jay grilled chicken and warmed the leftover ribs for dinner. Shortly after, we had rhubarb pie ala mode and root beer floats. Joy couldn't stay awake any later (it was 8:45 after all), and she started the steady procession to bed. These days can really wear a person down, and we are all unashamed by the early bedtime. One more day to go!