As the team prepared for the final day of riding on Thursday, Jay again cooked up a hearty breakfast for the riders.  All were anxious to finish up and return to their waiting families, and Jim needed to return his rented bike before 5 pm.  Jim took off well before the others to get an early make-up ride for miles lost on the day he had to switch to the rental bike. The juniors, Johnny and Tony, followed not long after, determined to make short work of the 62 miles.
When Jim returned from the make-up ride, he joined John and Bob to begin the senior ride—a bit off pace from the young rocket boys, but as determined as the juniors to get to the finish.  The day's routes were centered around camp, so Jay could stay in place to get the Mother Ship, cargo/bunk trailer and all the equipment and supplies put in place for the departure home.
On the out-and-back rides, John spotted his second blue indigo bunting, and all riders saw deer, rabbits, squirrels and chipmunks. The trail has numerous birch bark clad blue bird houses, but none of their occupants were sighted.
It was a perfect weather day to pedal along the Root River, with none of the riders minding that they had ridden through each of the hospitable small towns a time or two previously.  A question that remained unanswered was a sign posted in Whalan that it was "Home of the Stand Still Parade."  Speculation was that it must be a parade that does not move. Interesting.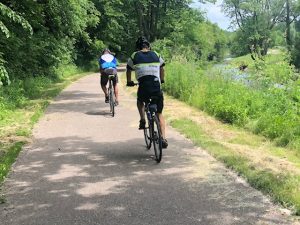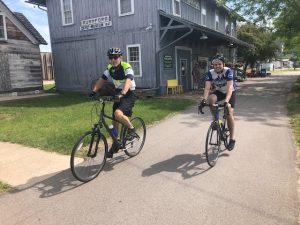 A significant accomplishment by senior rider Bob, was that for the first time on this year's ride, he remained upright for the duration of the day, even though Jay remained on the ready to again provide first aid when needed.  Bob and Jay made good use of the newly acquired Ace Hardware First Aid Kit the previous two days.
As expected, Johnny and Tony made quick work of the day's ride, finishing up in time for Jay's lunch.  At that point John, Jim and Bob had 20 miles yet to ride–which they accomplished by 3 pm.  After showers and the traditional team picture with riders holding bikes above their heads, Jay had the RV pointed homeward, via the Dairy Queen in Zumbrota, and a returning home assortment of gravel roads that he again proclaimed were part of his "most direct" routes back, something the other support drivers may think about on future CEM 900 travel.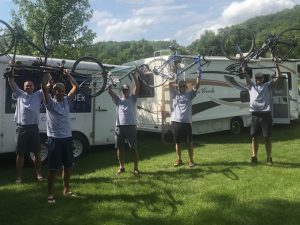 The riders were back at John's house, each ready to return to their respective homes—with memories of three nice days on the trail, mission accomplished, and a nice day ahead being greeted by supporters at the Merchants Bank reception.