A Fabulous Finale (or Finally Finished)!
Today was one of the two days where we wanted to get an early start and an early finish for our drive home, so Doug was up by 6 a.m. making preparations for us, including eggs to order with toast for anyone interested. Dennis was going to have cereal, but John had thrown out the Total, because it had been in the RV since last year, albeit in a sealed bag. John had also thrown out a few other edibles, mostly since they were things he didn't like. The only thing Dennis wanted to throw out was the watermelon, our third mediocre, tasteless melon of the trip to go along with one really bad one. Doug promised to get us a good one today, since he knows some secret trick for picking out the best…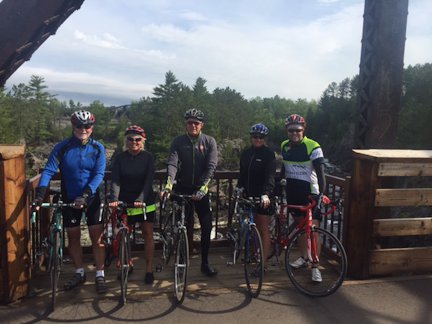 We closed up the camper and RV and headed to the Willard Munger State Trail in Carlton. It had been a very nice, but short, stay in our Cloquet campground. The air had a feeling of fall, cold, cloudy and 48 degrees, but we knew it was very warm to the south, our direction for the day. At Carlton we rode north for a bit first to see the scenic bridge over the St. Louis River, probably our favorite stop on all of the Minnesota trails. After pictures we rode on down the trail, turning south back through Carlton.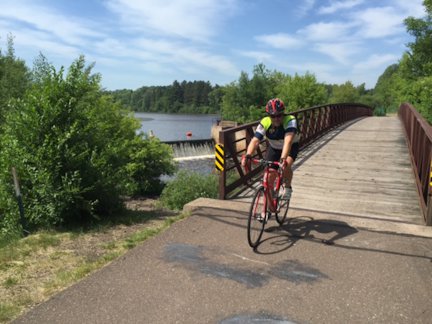 Along the first stretch of trail Kathy approached a doe with her fawn. The doe jumped off the trail, but the fawn didn't follow, trotting slowly down the trail in front of Kathy for 100 feet, seemingly unafraid. Kathy could not reach her phone quickly enough to get a picture, as the fawn moved into the tall grass in search of Mama. We have seen numerous deer on our ride this year, a reminder that we are out in the natural environment riding through their habitat.
Further down the trail Dennis rode with a biker, Kevin, who was on a training ride for a triathlon. They rode together at a nice pace to Barnum, trading biking stories along the way. We truly enjoy meeting interesting people on our tour. Near Barnum the trail was ripped apart for a short section, but we were able to easily walk through the gravel to the other side, stopping for our late morning lunch 26 miles into the ride. True to his word, Doug had sweet, juicy watermelon for us…you'll have to ask him for the secret trick.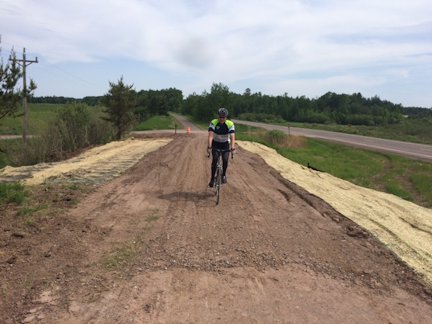 Checking the radar we saw a storm front moving toward us, so we made plans to reconvene in Willow River in 13 miles. At about the half-way point the clouds were over us, and it began to rain. We saw no lightning, heard no thunder and actually enjoyed the light, steady rain for a few miles before emerging to the other side, a noticeable warmth and humidity in the air as we reached Willow River. We made a quick stop and headed down the homestretch for the finish in Hinckley.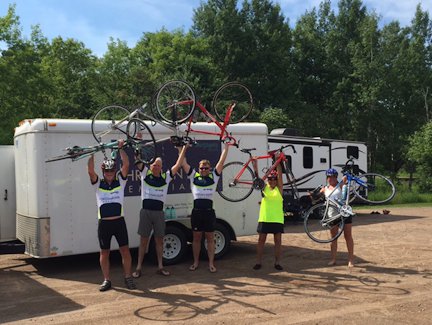 We pedaled the final miles in increasing heat and took our traditional bike-raised photo to celebrate another job well done! One last stop at the DQ for treats was our reward. Thanks again to the staff at Kids 'n Kinship! We made our final drive back to the Cities, content that we had completed another great ride!