CEM 2016 Appreciation Day
Many of us convened at the Carmike Theater for the RV ride to the Merchants Bank branch office in Apple Valley for our Welcome Home party. Jim, Kathy, Justin, Tony, Johnny, Dennis, Joy and John were all present; Mike, Kyle and John K. were unable to attend; Jack was missing. We later learned that Jack had been to our location, saw nobody there and thought he was in the wrong spot. The problem was that he was 20 minutes early…you would think he would have known after 15 days on the road with this crew over the past two years that we have never been early once. In fact, we consider it to be amazing if we are within 30 minutes of our planned schedule.
Oh, well…we picked Jack up curbside before pulling into the new Merchants Bank location. After delays and discussions about whether we could make the turn into the bank parking lot, we decided to go ahead. It was all rather anti-climactic as we finally emerged from the RV to the cheers of our supporters, yes a little behind schedule as usual. We told the new riders to act like astronauts on their way out the door.
We were welcomed by Skip Stovern of Merchants Bank, our title sponsor and largest supporter over the years, followed by Apple Valley Mayor Mary Hamann-Roland and Kids 'n Kinship Director Jan Belmore. Certificates and awards were handed out to the riders and support drivers, including ten-year participation plaques for Dennis and John (actually John's 11th year of organizing and riding in the CEM900).
John spoke about our appreciation of support from all contributors, but especially Merchants Bank, Elder-Jones, Inc., Single Ply Systems and Great Clips for their large corporate donations this year and for several years in the past. He also spoke about the history of the ride and his involvement with Kids 'n Kinship and the great work that is being done through this organization. Next Dennis spoke about the riders and support drivers who participated on this year's ride. Kathy completed her 7th ride and Justin his third. However, eight of the 12 riders were 1st or 2nd year participants, as were all 4 support drivers, Matt Stepanek, Josh Hill, Doug Gurholt and Zach Gurholt (or Chas, as the Leg 3 group now calls him). We see a great future with this recent move to younger riders, which we attribute in large part to shortening the ride to 900 kilometers in the past two years vs. 900 miles for the first nine.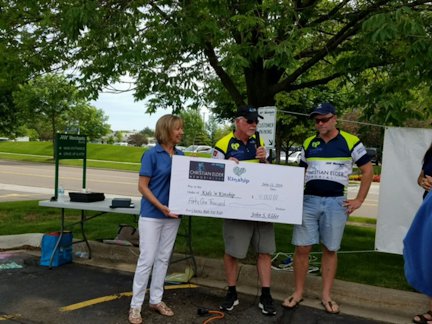 Finally, John presented the check to Kids 'n Kinship for $41,000!! We believe the amount will be greater than this by the time the contributions stop, but we are extremely happy to provide this level of support. Thanks to all of our contributors! And thanks to all who have participated as riders and support drivers, and especially to those who work in the background: Ann Gurholt, who tracks our donations and manages the thank you letters for us, and Cindy Higgins, who updates our CEM website and posts the diary and pictures each day throughout the ride.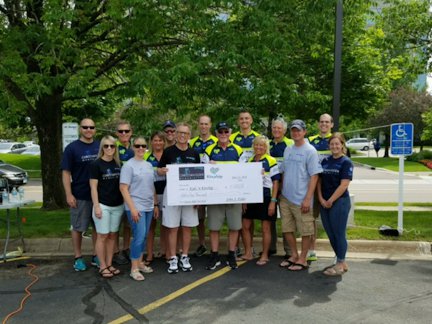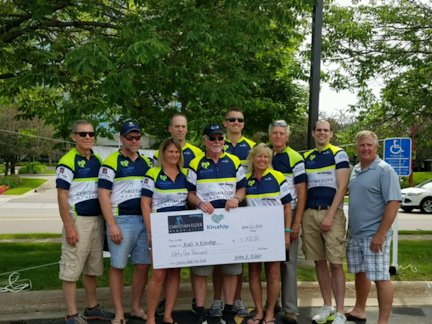 Another year has concluded. John can now begin planning for 2017!