Has Anyone Seen a Teal Eyeglass Case?
The Grand Rapids area weather continues to be nice to us, something which we are very happy about, especially considering the rainy weather back home in Minneapolis. Also, we had virtually the entire Itasca County Campground to ourselves, and we were certainly enjoying the serenity while contemplating the day's ride and more importantly, what to have for breakfast. We considered a quick meal of cereal and toast, but ultimately decided that French toast, bacon, sausage and eggs on the griddle was much more preferable. John whipped up the French toast batter, Doug cooked, and we all enjoyed a full breakfast to fuel our ride.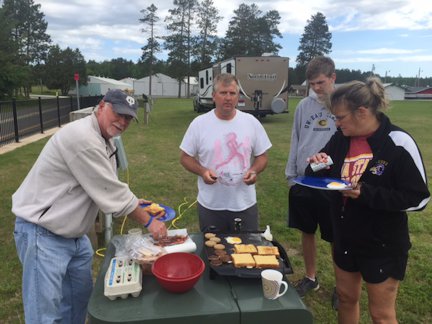 While packing up the RV, we were unable to retract the slider more than a couple of inches. A feeling of doom was hanging in the air; we sure didn't need any more RV issues to slow us down. Jack stated casually (Jack states everything casually) "I bet it's a teal eyeglass case." Dennis was oblivious to this reference, but learned that Joy had been searching for a teal eyeglass case all morning. John reached under the sofa and, with considerable effort, pulled out an object which was wedged in the retractor. You guessed it…a teal eyeglass case! Joy, this is why we can't have nice things!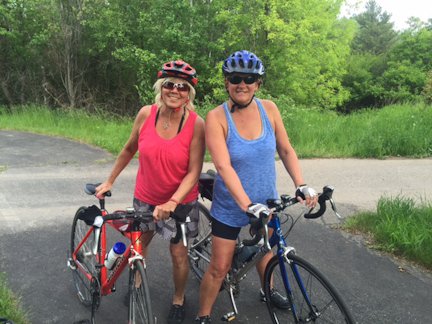 We drove to Keewatin to start pedaling, since we had already seen the first section of the trail from each direction. Our original plan had been to bike from Grand Rapids to Virginia yesterday and back to Grand Rapids today, but as you know, our plans are very flexible. We took off through Keewatin, Kelly Lake, Hibbing, Chisholm and finally to our stop in Buhl. Joy forgot her water bottle back in the RV, but Dennis loaned one of his along the way; this would have been a long ride without water.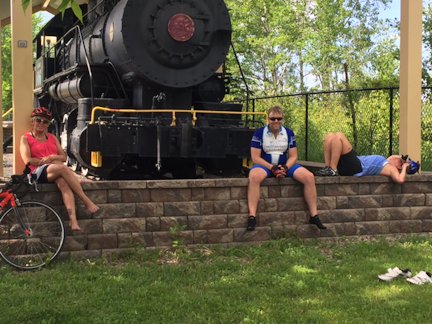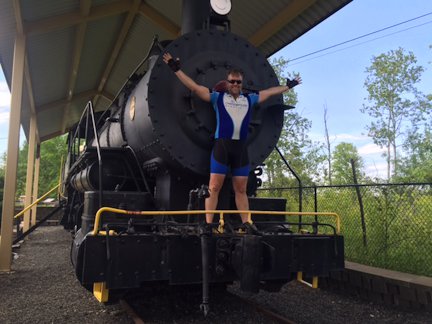 After lunch we continued on the trail to Virginia, stopping in Mountain Iron for some photos. Riding to our stop it at first appeared that Doug and Zach were parked in a cemetery, but they were actually in a beautiful city park next to the cemetery. The trail ends in Virginia while the MNDOT works on a Highway 53 reconstruction project. There had been a detour from Mountain Iron to Eveleth via highway, but we chose to stick with the trails for safety purposes. Interestingly, though, the trails can be hazardous as well. As Dennis was cruising on a downward slope nearing a blind curve, a boy on a 4-wheeler flew around the corner, looking back over his shoulder, accelerating as he came. Options flashed through Dennis' head (let's be honest, it was just a brief moment of panic with no clear thoughts whatsoever), but with time to spare the boy turned back around and avoided Dennis. By the way, kid, the Mesabi Trail signs say "No ATV's"!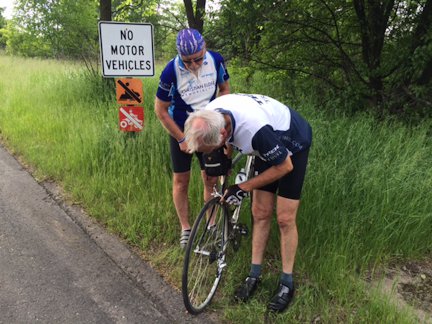 We all backtracked from Virginia for a roundtrip after our second lunch break, Jack getting a flat along the way to Mountain Iron. He and John used both of their CO2 cartridges on the repair job, but Dennis dropped another one with them, plus Joy and Kathy had theirs on the trail as well. Jack still rode a little uneasily to the finish, concerned that another flat may be coming. The tire held, and one by one we finished our 62 miles.
Doug and Chas (as John has been calling Zach) had gone ahead to make a stop at the U.S. Hockey Hall of Fame in Eveleth, which was closed by the time they arrived. We caught up with them at Spafford Park, a municipal campground adjacent to the St. Louis River in Cloquet. It was another late finish today, and by the time we were done showering and eating our steak and mashed potatoes dinner, it was well after 9:00. We filed off to bed one by one, knowing that tomorrow is our last day of riding, hopefully one with an early start.