Ok…the update some of you have been waiting for. Johnny brought the cute little pup, the new CEM900 mascot temporarily named "Christie", back home with him from the ride. From her dog tag he was able to contact Jenny, a Leech Lake Legacy co-founder, and coordinate a handoff. Leech Lake Legacy works with reservation members in a variety of capacities regarding responsible animal treatment and welfare. Christie, actually Princess Leia, is on her way back to her loving family, who is relieved and thankful that she was found and was doing well. Two of the family's children were walking her when she ran off, and Jenny knows the family personally and knows that Princess Leia is loved and well cared for. Johnny said it was hard to say goodbye, but she is with a foster family in the Twin Cities until her transport back to the family on Saturday.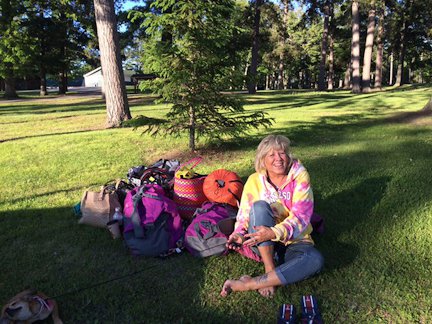 Now back to the ride. We enjoyed another great night for sleeping, at least once we found enough storage cabinets to accommodate all of Joy's clothes and gear. I hope she realizes that her trip is a 3-day adventure…it looks to us as if she's touring for a month. Joy claims she's just trying to be prepared for anything, but we're not sure how "anything" can add up to this much stuff! Joy is another of our first-time riders, only the second female rider ever, so she worked with a personal trainer and asked plenty of questions of Kathy leading up to the ride. Kathy is a CEM mainstay, riding for the seventh time, so she was in a good position to advise Joy, although they must not have discussed packing.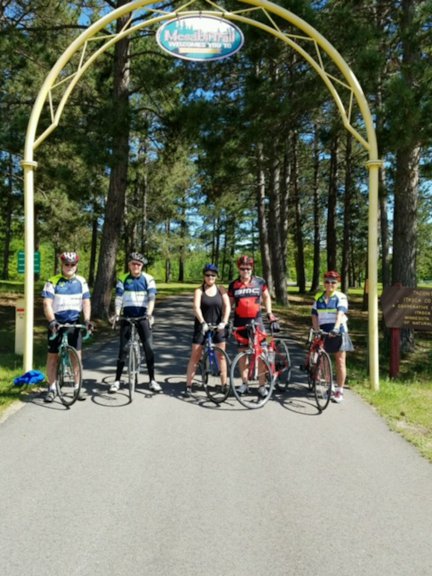 Regardless, they both looked fully ready as they joined John, Jack and Dennis at the Mesabi Trail starting point, where we snapped a photo and purchased our trail passes. We headed off down the trail while Doug and Zach drove the RV to the shop for new tires and then drove our camper to the first stop. The west end of the Mesabi Trail has great scenery, lakes, wildlife, and quiet forested areas rolling up and down through several small towns. It was another perfect day to ride, sunny and low 70's with a light breeze. We made it to Pengilly, 21 miles in, for an early afternoon lunch break with Doug and Zach with only one minor incident. Joy's chain came off her bike while pedaling up a hill, but John and Jack were there to help her out.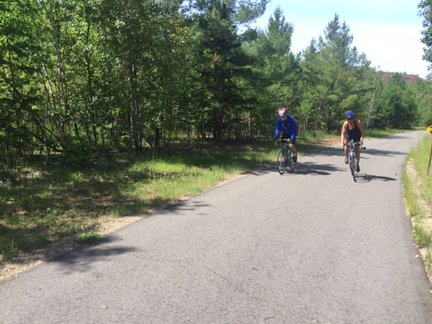 After lunch we continued 10 miles to Keewatin, turned around and headed back to Pengilly, finding our support drivers either completely relaxed (Doug) or bored (Zach). We made a quick stop, except for Jack, who has a tendency to dawdle at times, like anytime between 7 a.m. and 10 p.m. No worries though, since Jack pedals fast enough to make up the time. We refilled water and grabbed light snacks and then made our final trek back to our campground in Grand Rapids. Joy celebrated her first ever 62-mile ride with arms raised and a big smile. Then she asked Kathy how she was going to feel tomorrow. "Great! Never better," Kathy lied.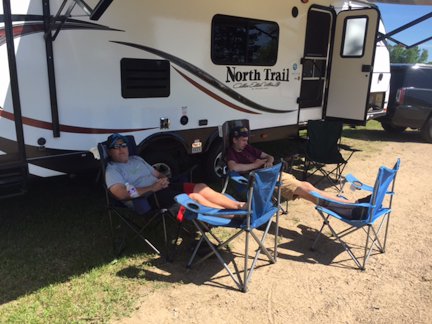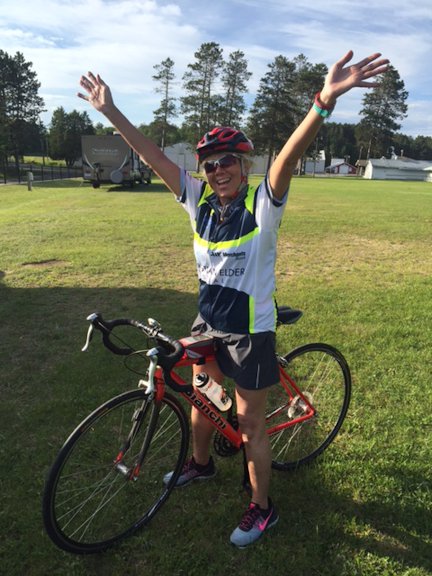 Doug and Zach had picked up the RV with a brand new set of tires and set up camp again. After playing some bean bag toss, Doug cooked chicken thighs and veggies on the grill. There were a few comments about making too much food, but we only had scraps left by the time we were done…must have worked up quite an appetite. John had brownies and ice cream, but could find no other takers for dessert as we called it a night.