Ouch, Road Rash or "It's Just a Flesh Wound"
After an overnight of heavy rain, we intentionally woke early with a goal of hitting the trail by 8:30, so we could finish our day early and make the return trip to Minneapolis for evening social commitments. Everyone grabbed a quick breakfast and headed north on the Wapsi-Great Western Trail at varying times, but all before 9:00, so we were doing fairly well on CEM time.
The trail was very scenic (it was new to all of us), rolling through groves of trees and winding through the countryside and over a long wooden bridge across a marsh area. At one blind intersection we almost had a CEM first – a bike collision with a horse and buggy! Mike was following John K., who allegedly failed to warn Mike about the crossing traffic. Mike was quite dismayed, especially when John, in an apparent effort to redeem himself, yelled "deer!" further down the trail when there was nothing in sight. The boys are having fun now!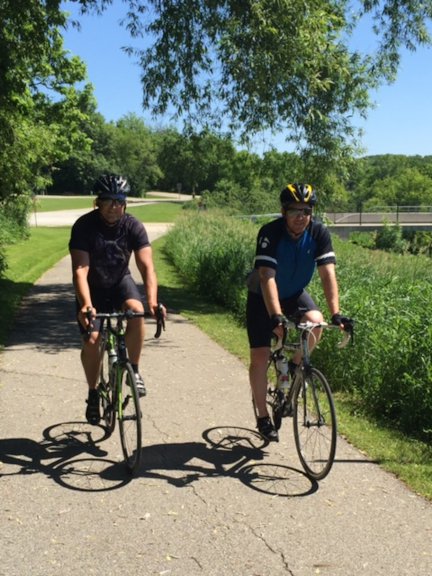 Up ahead, about 11 miles into the 18-mile trail, Justin and Kyle encountered a rather significant setback, a huge section of trail excavated with a large culvert lying in the middle. There went our plans of a nice 36-mile round trip. We all turned around and headed back toward camp and a rumored 5-mile continuation of the trail to the south. Dennis and Mike rode a mile past the campsite and into Riceville and then on streets to the south end of town in search of said trail. It was not to be found, and confirmation of this non-existent trail was made by a local resident.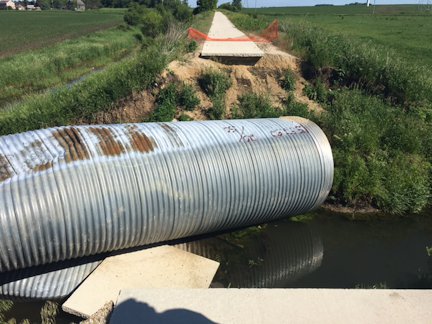 We all decided to make another ride to the north to pick up additional miles before our break. At one point Dennis must have been daydreaming too much as his front tire dropped off the trail around a curve. That's all she wrote, as they say…there's no recovery to be made from this error. Down on the trail he went, no worse for the wear, except for a serious case of road rash – and a bruised ego. His bike tire was out of kilter, so he headed back to camp for repairs.
Matt was waiting patiently to serve his sausage, cheese and egg scramble for our midway brunch, and finally, one by one the crew rolled in. We made quick work of brunch and then set out to finish our 62 miles. Within ten miles of the finish to the first leg, Mike got a flat. Kyle stopped to help him with the change, but about a mile later the tire went flat again. They had a total of one spare tube between them (not well planned), but luckily for Mike, Dennis rode to the rescue with two spares. And they needed both of them.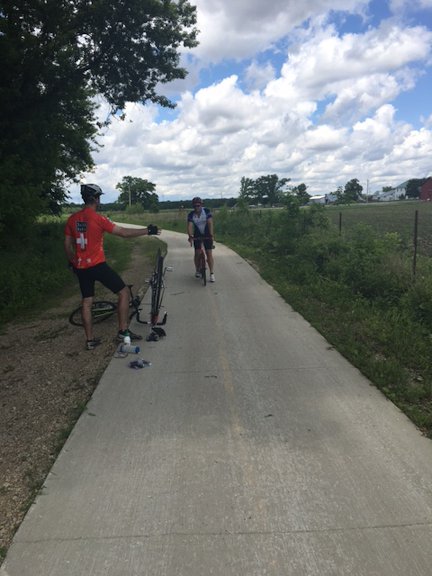 We all finished the ride, took quick showers and left the campground by 3:00. It was a beautiful sunny day to ride, but just as we left for home, we were struck by torrential downpours that battered our rigs. We were so, so happy to be inside and not on the trail at that moment. Back in Minneapolis for an overnight stay at home, John and Dennis said good-byes to the rest of the leg 1 crew. It's been a great run with Justin, Kyle, John K., Mike and Matt. See you at the finish line!