Another bright, sunshiny morning greeted us, and before long Matt and Justin had breakfast going. On the menu for us today: pancakes, French toast, bacon, sausage, and of course, lots of coffee; so much for this being a weight loss boot camp. After clean-up and normal preparations we were on the trail again by 10:00. Our campground sits right next to the Root River Trail, so we are able to bike right in and out without moving the mother ship. This is a very nice feature, and the campground is decent overall, but there is certainly some bitterness from our group over the 50 cent pay showers here, especially considering there is no change machine.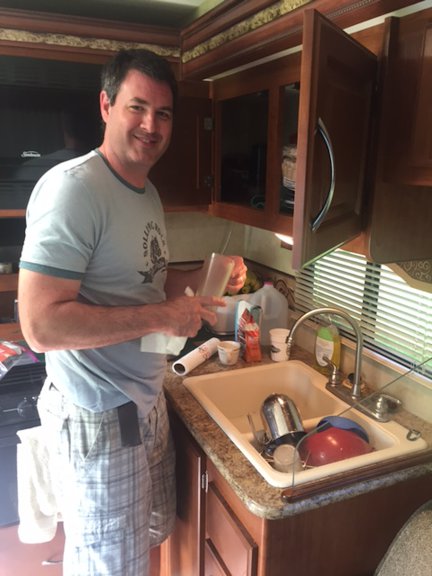 Today we headed west on the trail through Lanesboro and then took the Harmony-Preston Trail south to Harmony. A few miles past Preston the climbing begins. The reward as we crested many of these hills was an increasing headwind on the open plateaus. Actually the real reward came on our return trip from Harmony, downhill with a nice tailwind (except for Kyle, who was generating a headwind with his speedy pace).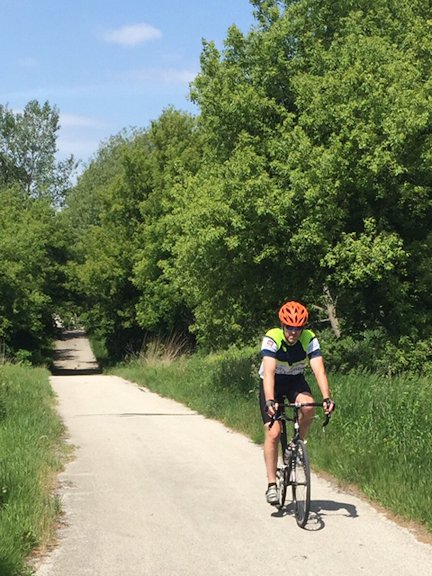 35 miles into our ride, we arrived at the Preston City Park for our lunch break. Unfortunately, our lunch wasn't there. Nor was the RV; nor our support driver. Matt had parked at a baseball field that he was calling the City Park, although there was no trail anywhere nearby. Memories of Jimmy flashed through our heads. The boys are using the Find My Friend app on their phones, however, so Matt was much easier to track down than Jimmy ever was. That sure would have come in handy in years past!
Despite the minor setback, we had another great lunch stop before continuing down the trail. We reconnected with the Root River Trail and continued west on a grueling 6-mile steady climb to the end of the trail in Fountain, Mike, Kyle and John K. going 3-wide for a photo op at one point. At Fountain, we turned around and headed back to the campground to finish our day.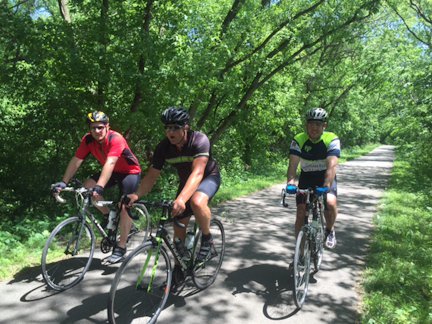 Rain was moving in our direction, so we contemplated staying put for the night. However, our camp host, Honest John, told us that all of the sites were reserved. Looking around the sparsely occupied campground, we were very skeptical, but there was really nothing else for us to do but to shower, pack up and hit the road. Jim departed for home, and the rest of us moved on to Iowa. Since it was raining at this point, we made a rare exception and stopped at the Teluwut Bar and Grille for dinner. I do believe our original choice of Matt's special barbecue chicken on the grill would have been much better.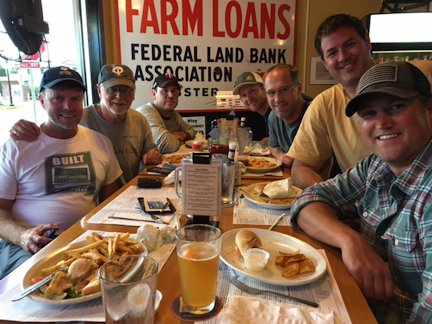 We finished our drive to Riceville and parked our rigs at the Lake Hendricks campground. Since it was still raining, we retired to the trailer for movie night. After some debate we selected the TMC-worthy Revenge of the Nerds. As the movie ended, we agreed that Nerds ranks right up there with Porky's in 80's classics. John K. pulled out some scotch-a-roo's for dessert (not sure where these have been). Cheers to his wife, Missy, who made them for us! With nothing left to do we settled in for what was looking to be a very rainy night in Riceville.