We love sunny 75 degree days, and today looked to be one of those great days to start riding. Matt got the breakfast sausage on the grill, and Justin whipped up some of his famous pancakes on the griddle. It was a fabulous breakfast, although we wouldn't recommend the blueberry sausage links from Von Hanson's to anyone; they didn't quite meet the CEM taste of approval.
Final preparations and bike adjustments were made, everyone geared up and we were ready to hit the trail before 10:00. Matt took a send-off photo with the largest group of riders we have ever had on the CEM, and off we went to Houston. The 31-mile ride to Houston was beautiful, and we were glad to see no trail closures and no other problems along the way. Mike did have a close encounter with a deer, however, when the deer was distracted by a female rider coming from the other direction. Luckily his evasive maneuvers saved the day!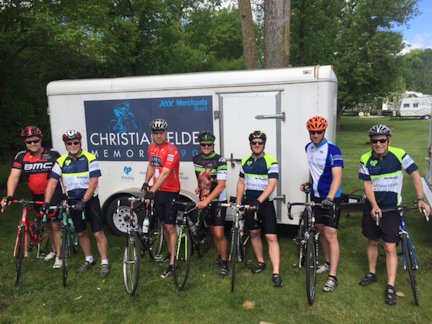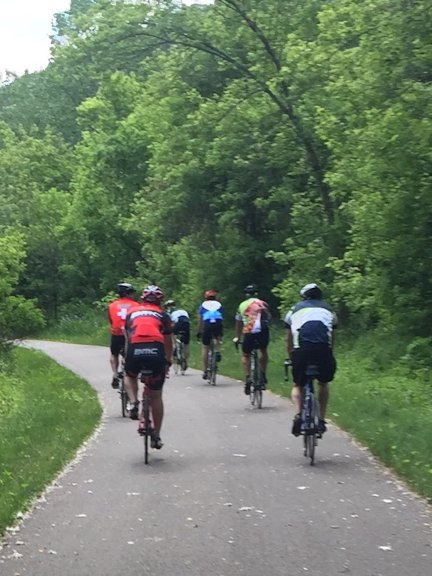 Matt set up a great lunch stop for us in Houston, with Sherry's pasta salad and smoked pork sandwiches courtesy of Kyle; I think we're down to about 10 pounds of pork, so we may need to ration. After turning to head back to Lanesboro, we realized that we now had a headwind, although we didn't even know we had a tailwind on the way…a biker's paradox I would say. Kyle said there's always a headwind -when you bike as fast as he does. Whatever! I'm sure we haven't heard the last of that line.
We had a little more action on the return trip. First John and Jim encountered some "damsels in distress" (their words, not mine) with a blown tire and no spare. Apparently the CEM heroes replaced the tube with one of their own and sent the ladies on their way, although there is no photo documentation supporting their story. Justin saw a butterfly on the trail that he wanted to photograph for his daughter, Leyna, so he got off his bike. The butterfly took off and Justin ran after it on foot, telling us later that butterflies are faster than you would think. We would love to have some video of that! By the way, he never did get that photo.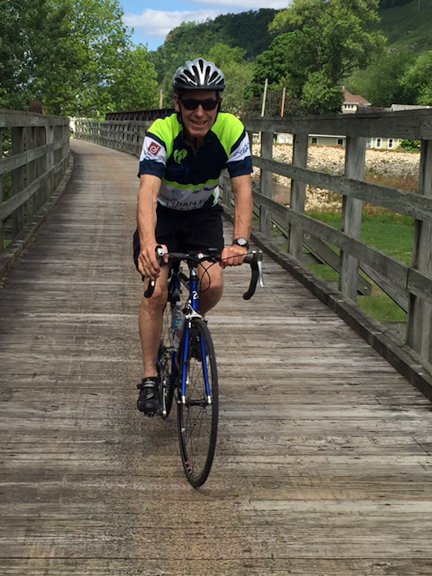 Finally Mike felt his rear tire losing air about 5 miles from our endpoint in Lanesboro. Not wanting it to go completely flat on the trail, he booked it as fast as he could back to the campground. Luckily for him, he made it, and Jim helped him to replace the tube. The rest of us just rode our bikes, Kyle going for bonus points by riding an extra 10 miles, although a few of the boys were unimpressed with this go-getter attitude.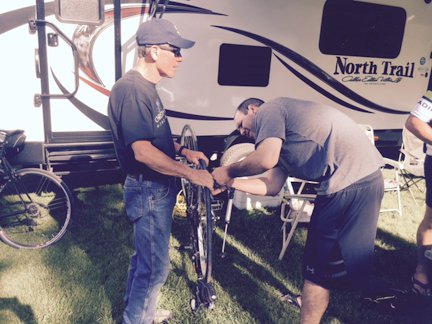 It is apparent that a lack of training by certain riders took a bit of a toll today. There was not much movement in our campground, except to polish off some of Matt's superb pork nachos. This was just enough to hold us off until steaks and veggies on the grill later that evening. After dinner we listened to Mickey Gilley around a roaring campfire (despite our ridiculing of John K. for laying the wood out to dry in the sun, it must have worked). We finished our night off with root beer floats and looked forward to a great night of sleep in the cooling air.