Oh, what a glorious morning, clearly a Top 10 day in Minnesota. The sun shone brightly, reflections clear on the glassy lake, birds singing in the trees. We were tempted to grab a book and sit by the lake all day, cold beverage in hand. Who would know??? Ok, it just wouldn't be right. And so we began our daily preparations.
After a few cups of coffee to get us going, Matt made a pile of French toast and some bacon for our first breakfast. This campground is our home base for 2 nights, so today the vehicles didn't need to move…not sure what Matt planned to do all day. By 10:00 we were all set to go, and we posed for a quick photo in our brand new, sharp looking red and black CEM jerseys. The aches and pains from the first day of riding were mostly faded, and we were ready to begin anew. Despite what our media coverage states, we did not train year-round for the ride. The four riders collectively rode less than 300 miles this spring in Minnesota, so we were paying for that a little bit this morning.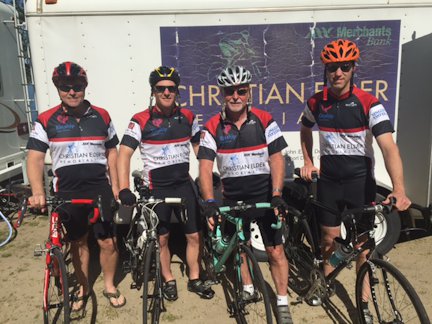 We all started westward on the Heartland Trail toward Park Rapids; however, since there were numerous options on the trails today, we all rode varying routes. John, Dennis and John K. rode the 18 miles to Park Rapids, pausing for a photo on the red bridge in Red Bridge Park. We could find no plaques or other information explaining the significance of the red bridge, but we surmised that it was the original wooden bridge across the water, long since replaced by a concrete and steel structure. Justin's in-laws live in Walker, so he turned around in Dorset (the restaurant capital of the world!!) so he could head back to Walker for a surprise visit.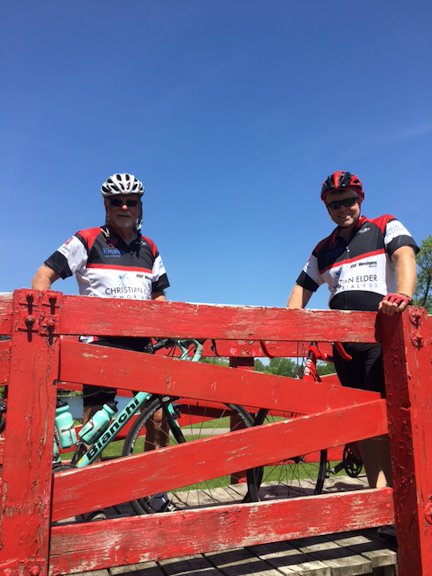 Returning to Akeley for our lunch break, we learned that Matt had gone for a nice 10K run in a show of his athleticism. Way to go Matt! The rest of the riders continued east on the Heartland Trail, John K. and Dennis turning south on the Paul Bunyan Trail through the Chippewa National Forest. The forest ride is one of the best in Minnesota, rivaling the west end of the Mesabi Trail for its serenity and solitude with the right amount of challenging hills for its 10-plus mile stretch. John K. had his first ever flat tire when nearing the south end of the forest. He was a little concerned about doing it right the first time, especially considering the problems with Justin's tire a day earlier. Also, it's a little eerie on this section because it is so quiet, and he encountered no other riders the entire time. He made the change without a hitch, however, and continued on his return ride.
Justin also made the ride through the forest before turning to Walker for that surprise visit. It was indeed a surprise as he stopped for a brief chat before hitting the trail back toward Akeley. John was pedaling on the Heartland Trail near Walker when he crossed paths with Justin. John eventually made a stop at the Woodtick Theatre in Akeley, consulting with "management". He declined to attend the rehearsal, however, since he knew Matt was waiting with a kettle of pork nachos. Yes, kettle…we make do with what is available on the trail. Matt also served us mozzarella sticks before sautéing vegetables and grilling chicken for our lakeside dinner. No mas!!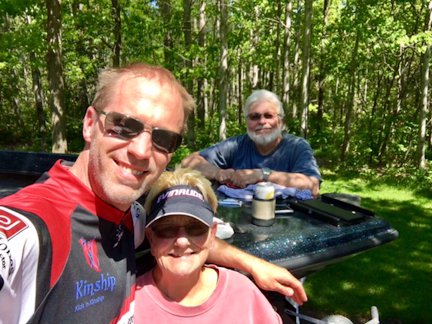 After sunset we had another campfire, although this bag of firewood was very wet and so was difficult to get burning. Luckily Justin brought along his new toy, a battery powered 58 volt Echo 550 cfm jet fan, just for this purpose. It took several minutes of constant fanning to get the fire burning, and we enjoyed the fire for a few more minutes before collapsing into our beds.