We awoke to another beautiful morning lakeside, a virtual repeat of yesterday's start. While the rest of us relaxed, Matt cooked some breakfast sausages and Justin whipped up a batch of his near-famous pancake batter. Justin cooked griddle full after griddle full of pancakes until we could eat no more. Breakfast is supposed to fuel our ride, not bog us down, but we also shouldn't exercise right after eating, at least that's what my mom told me. One hour was somehow the magic time. Well, luckily for us, we never get on the trail within an hour of breakfast.
After finally getting everything and everyone ready for our departure, we took one final photo on the dock. We pulled up stakes from our favorite campground amid discussion that we could change the routing next year to spend maybe 6 or 7 days here. We could probably make that work! John agreed to be Matt's assistant support driver today, making the necessary stops at the dump station and gas station before driving ahead to meet the rest of the riders at Laporte (which we have taken to pronouncing La-por-tay).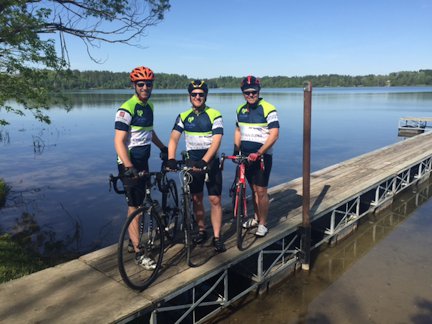 Our 21-miler to Laporte on the Heartland Trail and then the Paul Bunyan Trail was a nice, easy ride. After a quick break (we really didn't need to eat anything at this point), we were back on our bikes. Wait…Justin had another flat tire, the front tire this time. This change went much smoother than Day 1, with assistance from John K. and Matt. Dennis and John were off riding somewhere by this point.
Next we pedaled a wind-aided 20 miles to Bemidji, arriving just ahead of the drivers, who were taking an inadvertent scenic tour of the lake. While John was driving around with Matt following, he spotted a building next to the trailhead that he recognized from a year earlier. We appreciated the timeliness of their arrival, but at the same time questioned the lack of GPS usage. We were fairly certain that it had to do with Driver 1 talking on the phone while he was driving, which prevented him from using Google Maps. Pure speculation at this point, but years of observation would support this conclusion.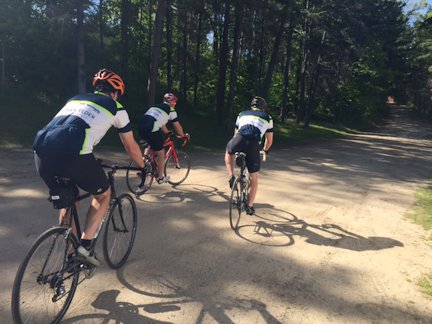 At Bemidji, Justin exclaimed that this was the best ride he had ever done. Wind can be very friendly at times. Justin, John K. and John decided to drive back to La-por-tay and ride it again. Dennis chose to continue north on the trail along Lake Bemidji to the State Park, recognizing that he would turn back into the wind for the finishing stretch. Along their way, John K. and Justin spotted a fox, a turkey and a deer, and they were also "threatened" by a porcupine. What does that mean exactly? Matt pondered whether the threats were verbal, but apparently the porcupine was raising his quills and making mean faces.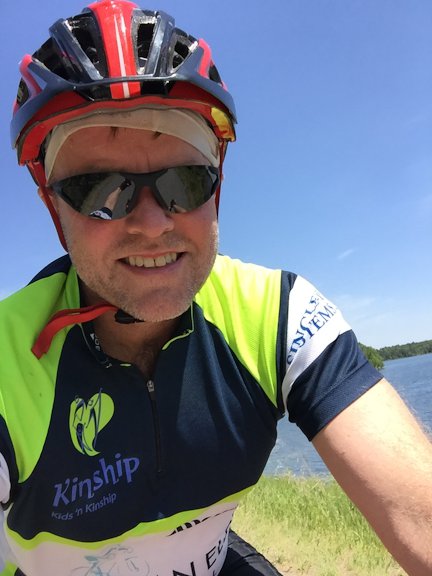 The day was very warm as we rode to the end, and John K. decided to jump in the freezing waters of Lake Bemidji to celebrate the end of his ride. He was joined by Justin and Dennis; it is an understatement to say that this polar plunge was invigorating! Back at the trailhead we loaded and made the drive to Grand Rapids. There we met our second leg riders, Kathy and Jack, and our new support drivers, Doug and Anni. Matt, Justin and John K. departed for home. We had a great time with the leg one crew!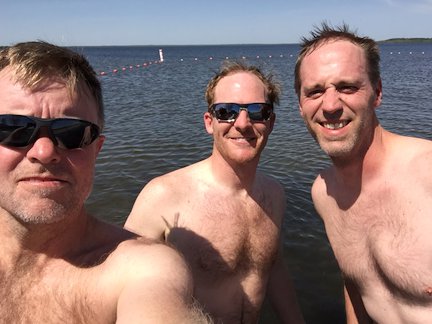 After setting up camp on the open grounds of the Itasca County Fairgrounds, a park ranger stopped to tell us that we couldn't camp in these sites, that there were other sites up the hill that we could use. We told her that we didn't notice any postings, but that we understood. We also let it slip that we were on a charity bike ride, and was there any way we could just stay here until morning. She considered the request briefly, said "I didn't see you" and then drove off. We were extremely pleased with that response, and so we enjoyed the rest of the night in our spot, including a dinner of burgers and brats on the grill.