After a fabulous sendoff luncheon sponsored by Merchants Bank and Kids 'n Kinship yesterday, we convened at John's house at 7:30 this morning to begin our trip; but not without some last minute issues to handle first. We are using Doug and Anni's camper this year, but when Justin stopped to pick it up, we learned that his hitch didn't work with the camper. Looks like we are using Doug's truck also! Meanwhile, Matt and John K. carpooled, but there was no room for John's bike. Improvising like we are known to do, John K. jumped on his bike in his jeans and street shoes and rode the 2 miles to John's house, bragging that he blew past another rider in full biking gear on his way over. As we were loading, John decided to take his dog Ranger to the vet, concerned that he had suffered a stroke. Luckily we later learned that Ranger has an ear infection and should recover nicely with a little medication!
Our former fellow rider Kyle bailed on us on Monday, and some of the riders are taking it quite personally. I've heard various stories, but supposedly he's moving today, and his wife thought he should stay home to help rather than to go gallivanting around northern Minnesota with his buddies. Did he just learn about this move 2 days before the ride was to start? To the further disappointment of the CEM boys, Kyle promised to smoke some pork for pulled pork sandwiches and nachos as a sendoff gift, but he got his days mixed up ("due to the holiday"??). Apparently this is typical of Kyle's forward thinking and planning process, so he will never be in charge of anything on the CEM. That is if the CEM boys ever let him back after this debacle. Yes, Kyle, you've been thrown under the bus…
We made the drive from Bloomington to Brainerd and were ready to start pedaling before noon. John K., Justin and Dennis headed north on the Paul Bunyan Trail into a steady headwind, while John and Matt moved the vehicles forward to our first stop in Pequot Lakes. Things took a bit of a downturn after our stop as we emerged from a tree-lined trail into open country with an increasing headwind, 15 mph sustained winds that made pedaling more difficult. Also, after Dennis and John K. left the stop, Justin discovered that his tire was flat. Certain that something was seriously wrong with the wheel, Justin, Matt and John took 4 attempts and 4 tubes to get the repair done.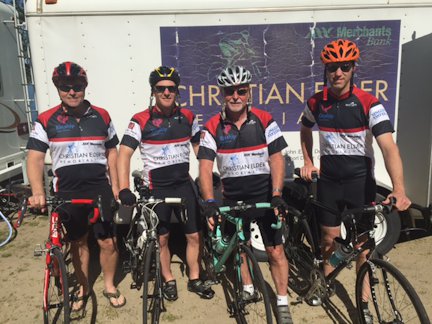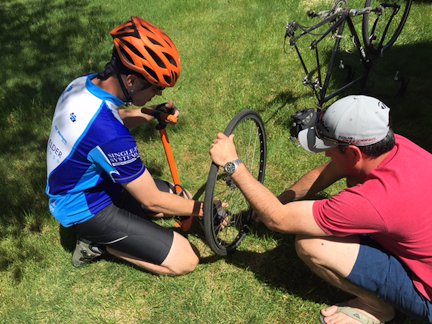 With Justin finally back on the trail, we were spread out over the 18-mile stretch between Pequot Lakes and Backus, the support vehicles arriving just as Dennis and John K. arrived for a much-needed break.  Considering our current circumstances, we decided to ride out and back to complete our ride for the day.  The ride seemed to be steadily uphill into the headwind, and our legs started burning, John K. stopping to sit on a tree that was sprawled across the trail to rest and contemplate the rest of the ride.  We rode to the entrance to Chippewa National Forest before turning back, John and Justin cruising in together at the end of the day.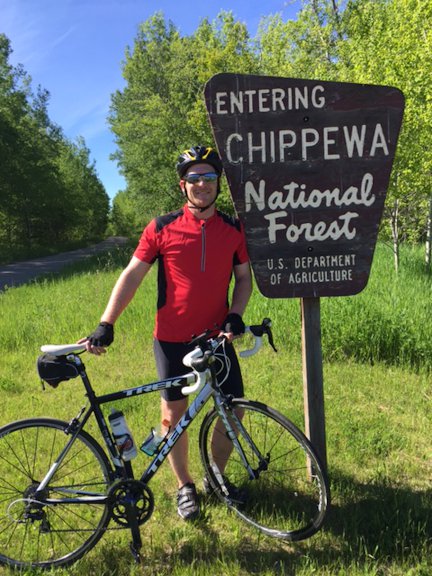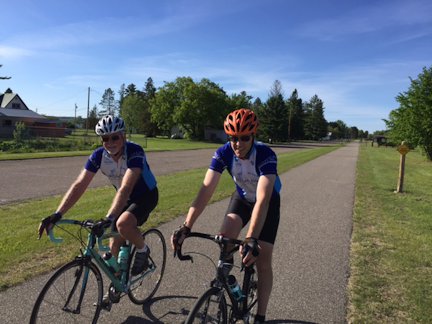 We arrived at our favorite campground on the lake in Akeley at 7:00, quickly set up camp and enjoyed steaks grilled by Matt.  It was a beautiful evening next to the lake, as we enjoyed the loons and other wildlife in their natural habitat.  John K. even spotted a sea otter!  Hmmm…he may need a day to recover from his delirium.  We managed to stay awake long enough for a campfire, but the exhaustion of the day quickly set in, and we all called it a night.