We awoke to a bright but chilly morning by the lake, so we clearly would not be in a rush to get going again today.  After several cups of coffee and much chatter, we sat down for a midwestern breakfast staple of egg bake and fruit. We discussed our routing options for the day while we ate. Brian suggested that we ride north into the headwind for a 31-miler to Cass Lake on the Heartland Trail, and surprisingly, there were no objections. While we prepared to leave, Doug played Brian's Song from Monty Python; Brian did not seem impressed by the song choice. At least Brian got a song. Kathy and Dennis are still waiting…
We pedaled east to Walker and turned north, enjoying the scenery and conversations along the way. Kathy saw a deer bound across the trail, but we have not spotted any pumas yet. The trail parallels Leech Lake north of Walker, and then winds through a lakeside neighborhood and ultimately along Highway 371. Doug and Ann found a great parking spot next to Steamboat Lake, where we stopped for sandwiches and chicken salad while listening to the Twins game, 24 miles into our ride.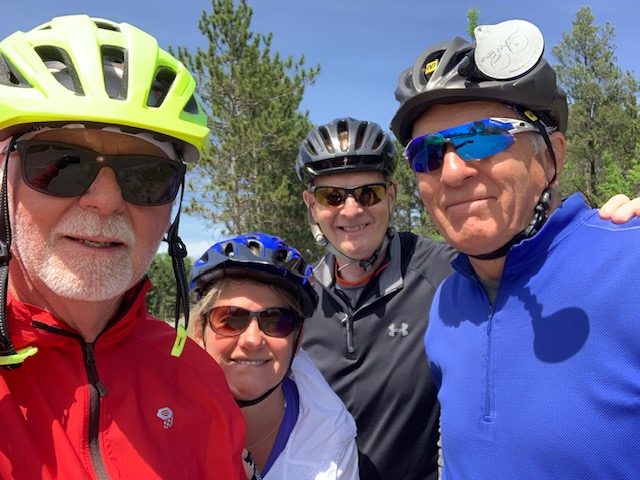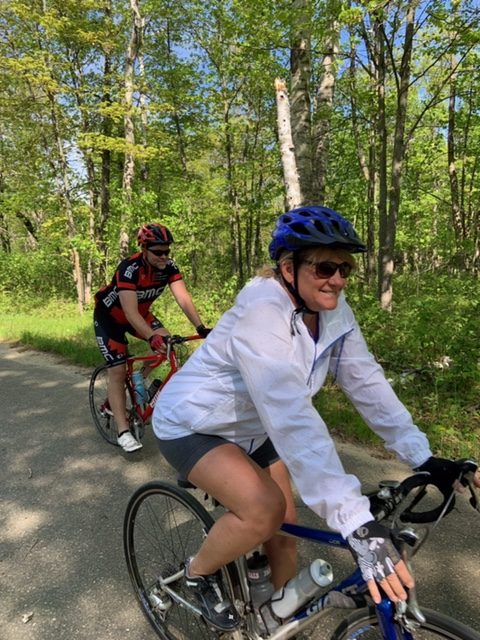 As Dennis rolled into the parking lot, he noticed a tear and oddly formed bulge in his front tire. Jack took this opportunity to point out his apparently indestructible titanium-lined tires with kung fu grip. Whatever! This was not helpful at the moment. Kathy (much too quickly, I might add) volunteered to trade tires with Dennis, so he could keep riding. Nobody except Kathy believed that this was a selfless act. She actually told Doug, "It looks like I get to ride in the truck." Not so fast. There would be only one way back to Akeley for Kathy, and it involved a lot of pedaling.
Dennis was planning to ride 14 miles back to a bike shop in Walker until he saw the assortment of repair items being gathered by the team: dollar bills and thin cardboard (to reinforce the tire), CO2 cartridges, tubes, tape (??).  Ok, this was really a dumb idea. We had mobility on our side, so why wouldn't we take advantage? This has been a mantra of the CEM team going back to the inaugural year and yet we still forget sometimes. We loaded the defective bike, and Doug, Ann, and Dennis drove to Walker while the rest of the team continued north to Cass Lake.
We followed the directions to Back Street Bicycle, but all we saw when we "reached our destination" was a house. No sign was present, and things were not looking good. Dennis checked Google again and saw the lead-in on the website read, "If I'm home, I'm open."  Crap! Dennis dialed the shop number and got a voicemail and then as a last resort dialed the cell number. The call was answered, but Dennis learned that Paul Nye, the Bike Guy was at a fishing contest. When Paul learned that Dennis only needed a tire, he volunteered to make a quick trip home if Dennis would replace the tire himself. No problem. Paul grabbed a new tire from his walkout workshop at the back of his house and left again. Dennis finished changing the tire and was once again ready to ride. Small towns are amazing sometimes. This was a slice of Americana on exhibit.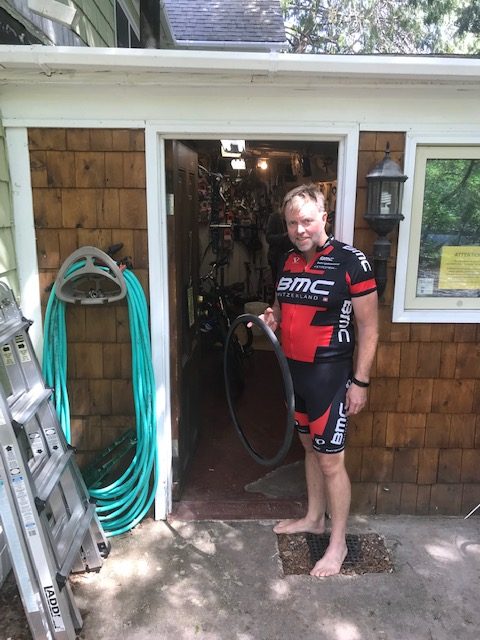 Dennis rode north into the wind for the second time (some would say that this was karma), and Doug and Ann also drove north to find a stopping point for the afternoon break. By the time Dennis met the rest of the team heading south, he was back on pace with his mileage total, and we all rode together. At one intersection, Brian did not see that there was deep soft sand on the trail, and he rode right into it. The sand stopped his tires in their tracks, and down Brian went. We have no picture of this, because John would not allow it…he seems to be getting soft.  
Our last stop of the day was literally on the trail. We spread our chairs on the trail and enjoyed snacks before taking off for the last 18 miles back to camp. The ride back with a tailwind on a beautiful sunny afternoon was a great way to finish off our ride.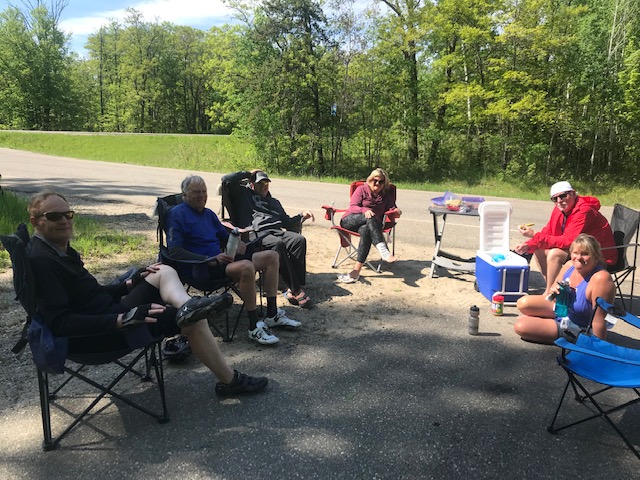 Doug and Ann cooked pork chops, asparagus, and risotto for dinner. It was excellent! After dinner we attempted to watch "Planes, Trains and Automobiles", but none of us got too far in the movie before deciding to get some sleep for the night. All of this fresh air seems to wipe us out early.