Early morning was pristine on the lake, not even a hint of a breeze over the glassy water. It was quite cool again, but the sun was shining brightly as we started moving around camp. Doug and Ann made a breakfast scramble with eggs, hash browns, and sausage, and we enjoyed another conversation around the picnic table. Once again, nobody seemed terribly motivated to get going, likely due to the stiffness that was setting in after the first couple of days of riding. In fact, our picnic area could have been mistaken for an ibuprofen dispensary during our morning preparations.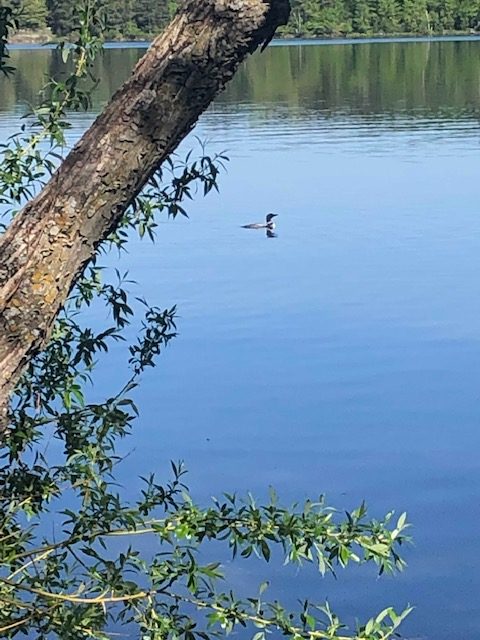 With no wind to factor into our routing considerations, we were in a quandary over where to ride. John said that someone had mentioned biking to Park Rapids and back for our early ride. Interesting…I'm pretty sure that John had mentioned it earlier and was now trying to create some collaboration with himself. Regardless, we were mostly indifferent and agreed with John's two suggestions. Once again, we were on the trail by 11:00.
We rode without incident to our first stop at a beautiful park in Park Rapids, where we refueled with meat, cheese, tapenade, crackers, and fruit. Some wine to go with it might have been nice. After the break, we left one by one. A little boy (about 6 years old) was riding his bike and said to Dennis, "I like your bike! And your helmet." Dennis replied, "I like your bike! And your helmet." This brought a thumbs-up from the boy.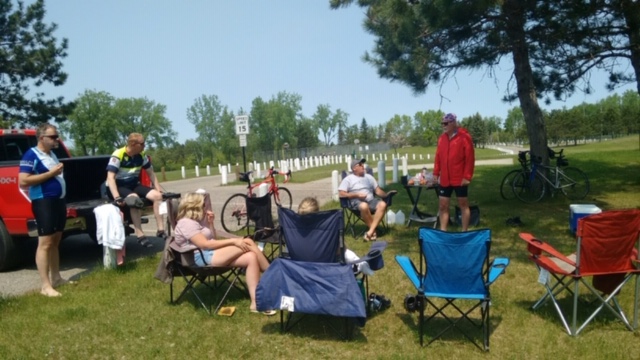 Jack was the last rider to leave Park Rapids. While riding down the trail a few miles later, Jack noticed that his saddle bag under his seat was unzipped and wide open. He stopped and saw that his biker wallet (aka zip lock bag) was missing, along with its contents: driver's license, insurance card, cash, etc. Jack rode back toward Park Rapids, watching for the baggie along the trail and asking everyone coming toward him if they had seen his missing items. He was a little despondent when he reached the park, but then he noticed that something was in his shirt pocket. Voila! The missing baggie wasn't missing after all. We won't be ribbing Jack about this too much; we've all done similar things at various times.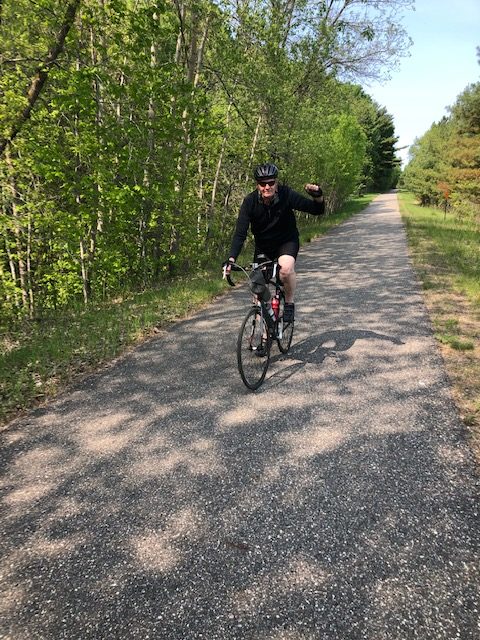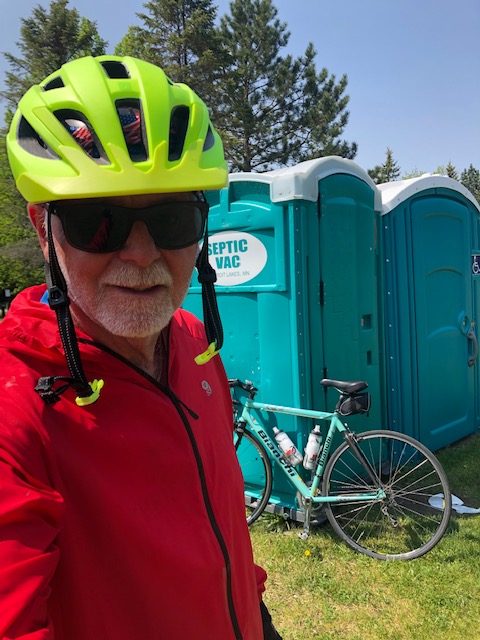 We rode back to Akeley, where Doug and Ann had a tray of steak and pork chop quesadillas ready for us. Delicious! We listened to the Twins game and grew increasingly stressed as the team surrendered 5 runs in the 7th before getting out of the inning. They still held a 2-run lead as we rode out of camp. Jack and Dennis opted to ride south on the very hilly stretch of the Paul Bunyan Trail through the Chippewa Forest; the very section of trail that John K. was whining about only days earlier. I can visualize John's pained expression, as he says "Why would you opt to ride this?" Because it's there?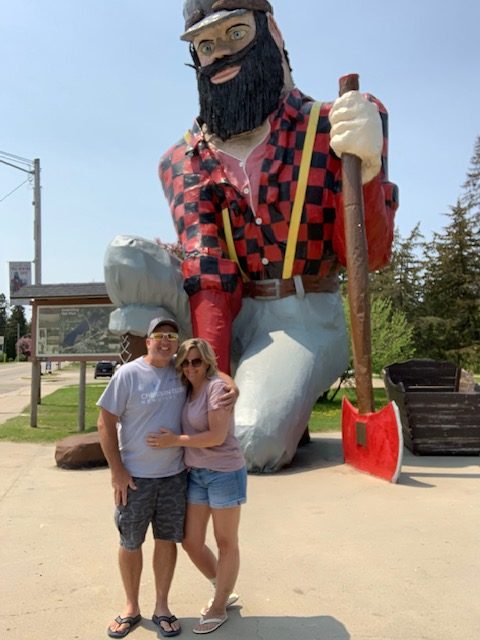 They stopped for a break at the 5-mile mark, where Dennis asked Jack if he wanted to turn around now or keep going the additional 3.5 miles before turning around. Jack looked at Dennis like he was speaking a foreign language, a look that said "We have to go back?" Jack never did answer the question (Doug can relate to these conversations with Jack), so Dennis kept going. Jack followed, and just when the trail flattened out, they both turned around and rode back through the hills.
The rest of the group rode on the Heartland Trail through Walker and to a turnaround point on Leech Lake, the same route as a couple of days earlier. They had a less-challenging, but more enjoyable, ride on the beautiful stretch of trail on an absolutely gorgeous afternoon. We all made it back to the campground by late afternoon. Doug and Ann had cold adult beverages waiting for us and new flip flops for Jack (since he forgot to bring any). Jay and Matt have some work to do to match this level of service from our support crew.
We showered and then Brian, Kathy, Dennis, Doug, and Ann packed and headed for home. John and Jack are staying for the 3rd leg also, and John will be taking over the daily diary. Good luck to crew #3! We had a blast on Leg 2!