Leg 2 of the ride began with an entirely new crew. John, Kathy, Dennis, Brian, and Jack are riding, and they will be supported for the next 3 days by Doug and Ann Gurholt. We especially welcome Jack back after a one-year hiatus due to a stroke he suffered just over a year ago. Jack is doing great, and his banter with Doug started almost immediately upon our arrival Thursday night. Just like old times!
Unlike the leg 1 riders, we did not set an alarm for an early start. Rather, we had a leisurely morning, taking time to enjoy the views of the lake and the sounds of loons out on the water. Doug and Ann made an all-American breakfast of bacon, eggs, toast, and coffee, which we enjoyed at the picnic table before getting ready for the day's ride. John was already trying to steer the diary in Doug's direction, and Doug was redirecting toward Jack. Their comments were noted by Dennis, but likely not heeded.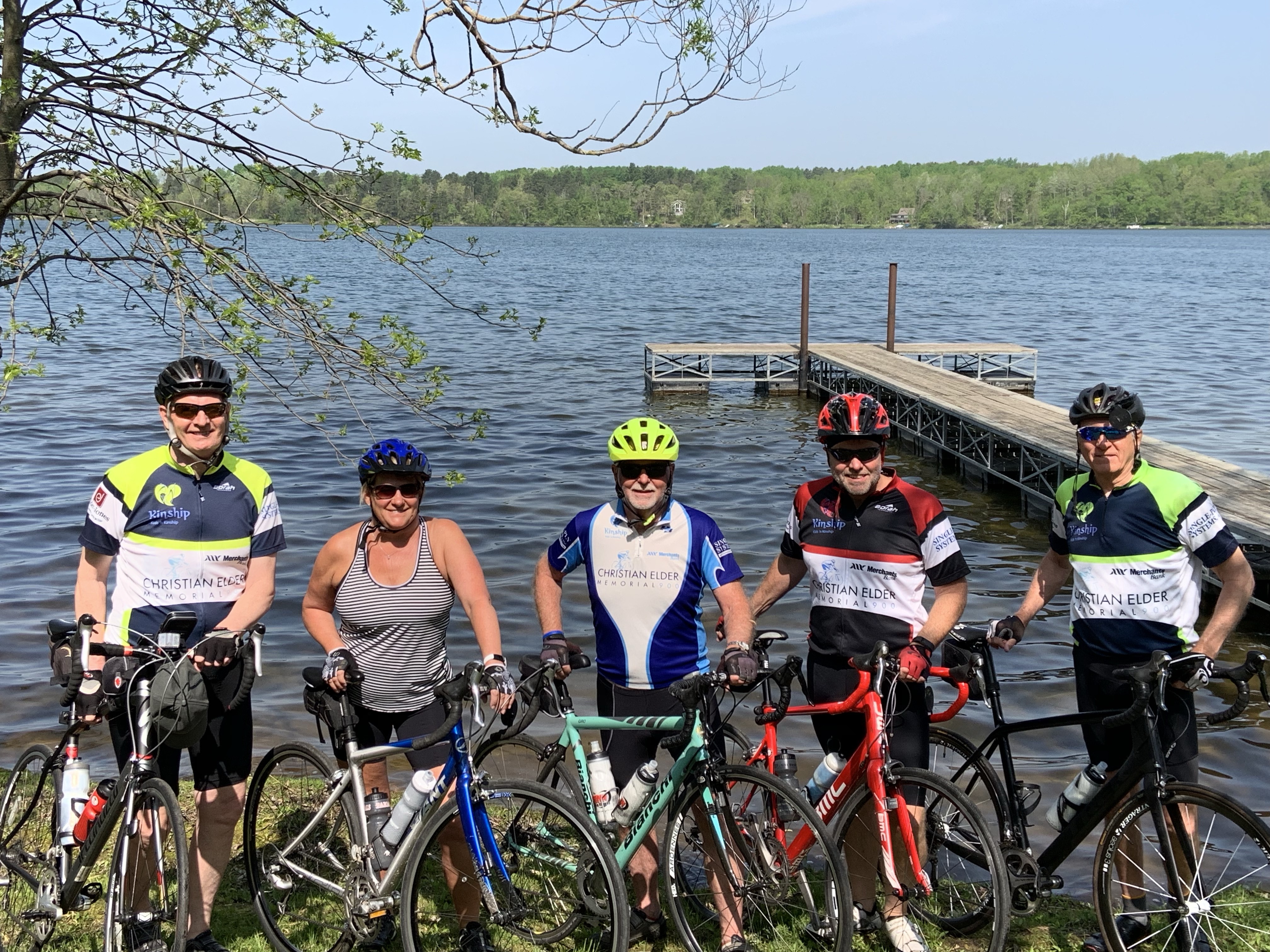 The wind was blowing from the northwest, and we discussed our options for the day, including a drive to Bemidji to ride back to camp with a tailwind, an option taken by our leg 1 counterparts. Ultimately someone said something along the lines of "We're better than that!" and we decided to ride west out of our campsite instead. It is so easy to poke fun at the first group when they no longer have a forum to rebut. Speaking of which, what happened to the pulled pork? 6 pounds, really? Maybe we would have liked some pork nachos also!
We finished getting ready, and Doug played some music to get us fired up for the ride, Johnny Be Good for John and the Theme from Batman for Batman Jack. Apparently, Brian, Kathy, and Dennis are not worthy of such a send-off. Maybe tomorrow. After photos by the lake, we walked our bikes up the gravel campground trail and then rode west toward Park Rapids. Leg 2 officially began, at nearly 11:00. We rode without issue the first 18 miles to our meet-up with Doug and Ann. After a quick watermelon break we headed back to Akeley. The wind had shifted a bit, but the Heartland Trail is so sheltered that it was almost imperceptible. We all enjoyed the ride back to the campground, where we relaxed and ate our lunch.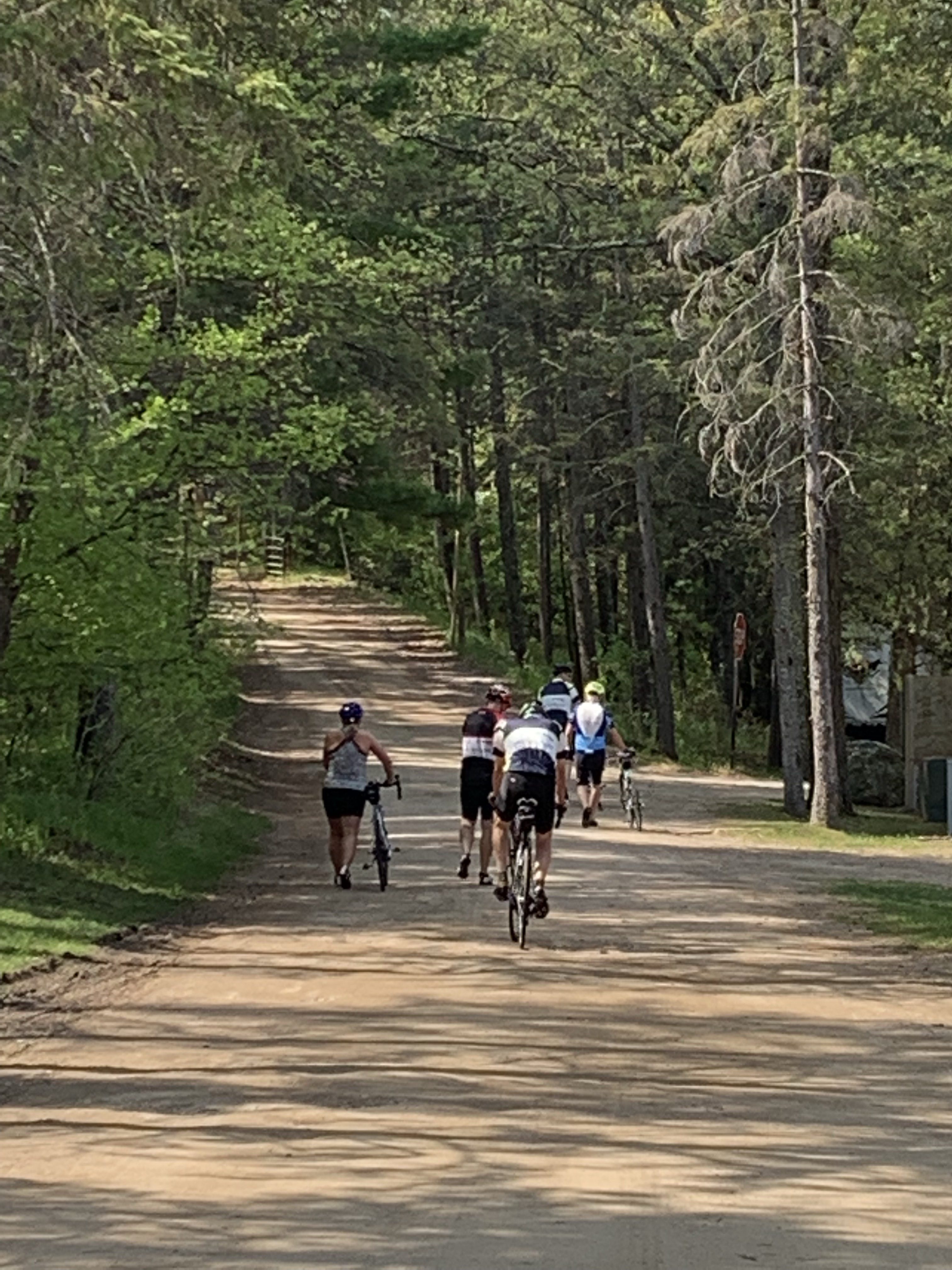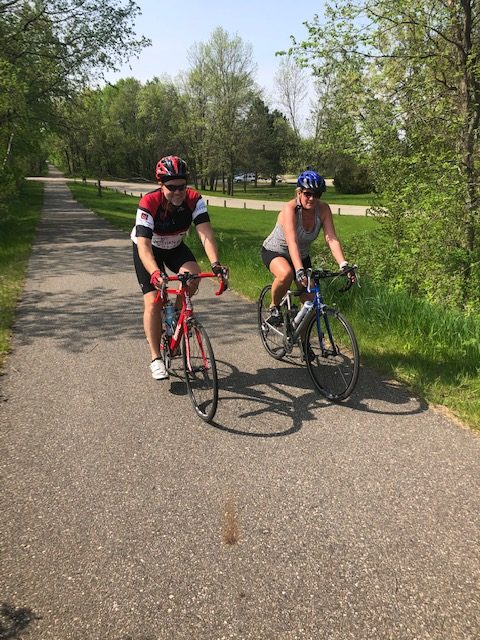 We had 26 miles to go, so we biked east 13 miles through Walker to a beautiful spot along Leech Lake. We stopped to enjoy the views and then headed back to the finish in Akeley. The day was warm with temperatures in the 80's, but the breeze felt cooling as we really enjoyed the afternoon ride. We hit the finish line, happy for such a nice ride. Doug and Ann grilled steaks and made mashed potatoes, corn on the cob, and cucumber salad for dinner. We devoured the food and then moved inside to watch our Minnesota Twins beat Tampa Bay with a 9thinning Eddie Rosario hit. This could be our year!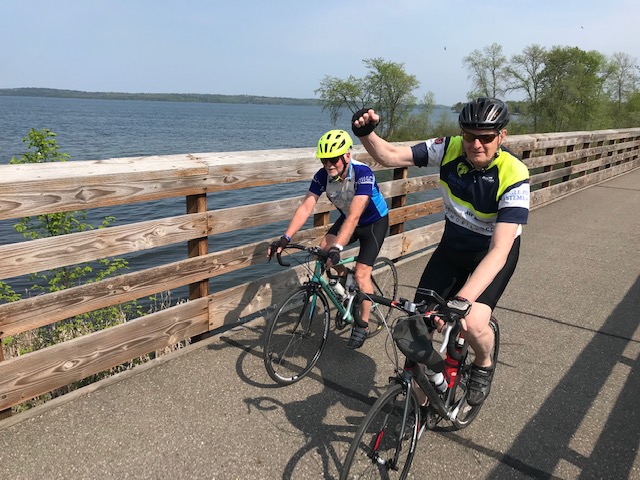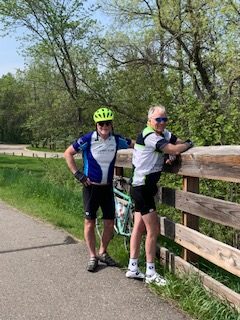 Reiterating comments from the first leg, John and Dennis also missed riding with the young guns. Thanks to Justin and his crew for taking it on! Hopefully we can get back to doing the entire ride in the coming years. One other item of note…we have made a change from prior years by staying in one campground for the entire 9 days. This has simplified logistics for us and saved travel time. Plus, we are set up lakeside in one of our favorite campgrounds! So far everyone seems to be enjoying the change.  
The campground is at capacity for the weekend, and lots of campers were enjoying their Friday night around the campfire. Despite the loudness in camp, we were all exhausted and had no problems getting to sleep. Well, maybe except for Jack and Brian, who didn't seem quite as forgiving.