Tuesday morning began with the aroma of Jay's breakfast being made, a medley of fried eggs and sliced potatoes with toast and jelly. It also began with the promise of afternoon thunderstorms possible on any route, causing the team to push for another 'early' 10 am start, with the day's ride taking them 40 miles to Bemidji followed by 22 miles back to La Port.
The CEM900 team was honored to be led the first four miles by Kids n' Kinship director Jan Belmore along with her husband, Dave, providing a push from behind. As with their 'almost boat,' Jan and Dave neglected to bring their helmets limiting their riding speed and distance and giving them a perfectly good excuse for not staying on the trails for the 62-mile duration. Instead, they enjoyed a day visiting antique shops and throwing a line in the water from the camp dock.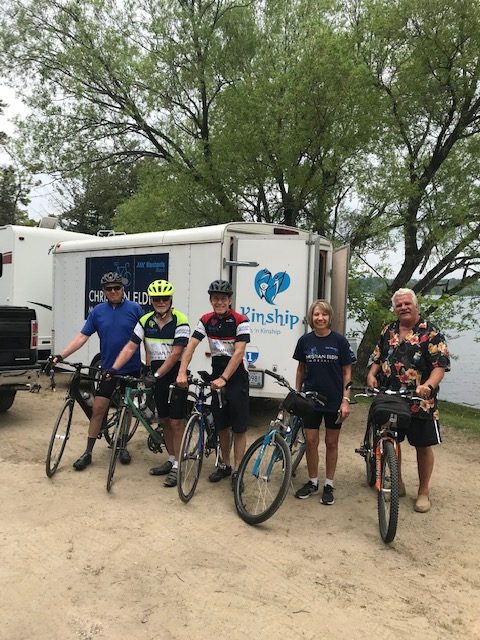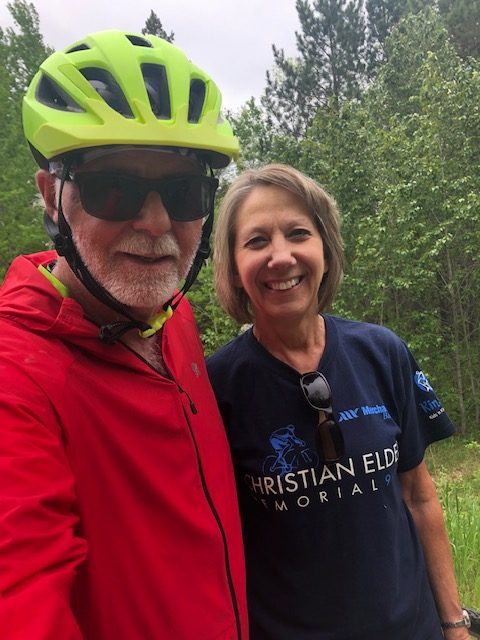 The riders enjoyed another cool but comfortable morning ride, tracking north, with just a whisper of breeze pushing them from the south. At the first 20-mile break, John noticed patches of exposed canvas on his bike's rear tire. A closer look revealed seven areas where the tire was down to threads. Good planning meant there was a new tire stored in the bike supply kit, which unfortunately was back at camp in the trailer. John determined that the best option now was to simply continue with the hope the tire still had 42 miles of life in it. After consuming Jay's watermelon and veggie snacks, the boys were back on the trail.



By mid-afternoon, despite seemingly perfect riding conditions, the riders became increasingly focused on weather, as forecasts and radar indicated that thunderstorms surrounded them in almost all directions. Jay called John from the mother ship to advise him that he had run into road closures and was not sure he could reasonably get to the Bemidji rendezvous point. Further, he asked that John call Jack, who was riding well ahead, of the situation. John made the call, which to his surprise, was answered by Linda, Jack's wife. Obviously, John needs to revise his contact numbers. Linda got a brief report on the rider's situation and was reminded that John would be bringing Jack home the following day. Somewhat reluctantly, she said she would take him back. Could be she's a bit miffed about cleaning the pool and mowing their ten acres of lawn twice in his absence?
John and Jim continued riding, unsure of how or where the team would reconnect. Ahead, Jack came upon a trail closure. Not sure where to go, he proceed to ride on roads designated as the trail detour. It was a matter of good fortune that Jay spotted him, then called John and Jim advising them where to meet. John's tire was still holding up, the storms were moving north and south around them, and they were reconnected at the mother ship. Sometimes a little luck plays into things.
After consuming Jay's chips with homemade guacamole, watermelon, and veggies, and with more storm clouds on the horizon, the team began the final 22 ride back to La Port. As he had done all day, Batman Jack was up on the pedals riding well ahead of John and Jim. Completing the day's 62 mile run, John was relieved that his rear tire held up, Jack was relaxing in the motor home, and Jim exclaimed that he was up for another 18 mile run back to camp.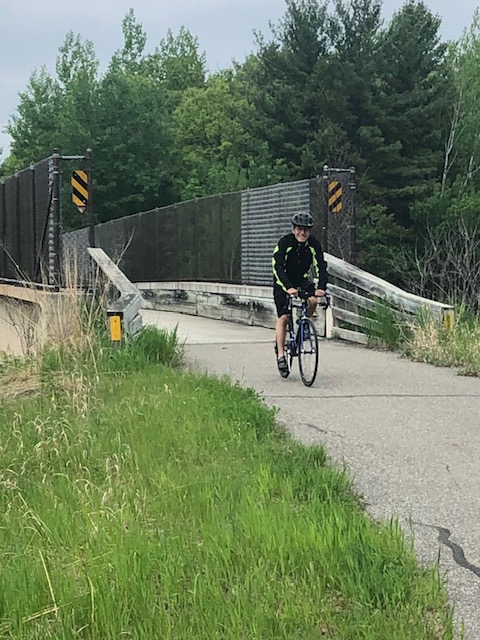 A bit later, all but Jim were back at camp, freshly showered, when he rolled in, proud of completing his longest single day ride, and reporting encountering a small black bear on the trail. Jim was somewhat disappointed to find 79.15 miles on his odometer, as he wanted nothing short of 80. When Jay was ready to walk a trash bag up the hill to the dumpster, Jim quickly volunteered to transport it on his bike. Soon after he was back on his bike for the 100-yard trek to the shower. Before long he proudly pointed to an odometer reading of 80.2. The team felt it would add flavor to the Road Diary if the small black bear could be stretched to something more like a snarling grizzly, but Jim's Boy Scout instincts kicked in, and he insisted on a more accurate accounting.
While Jay cooked up steaks and succotash, accompanied with a fresh salad, John was replacing the shredding rear tire on his bike. At the same time, storm clouds that had eluded the team all day appeared to be closing in.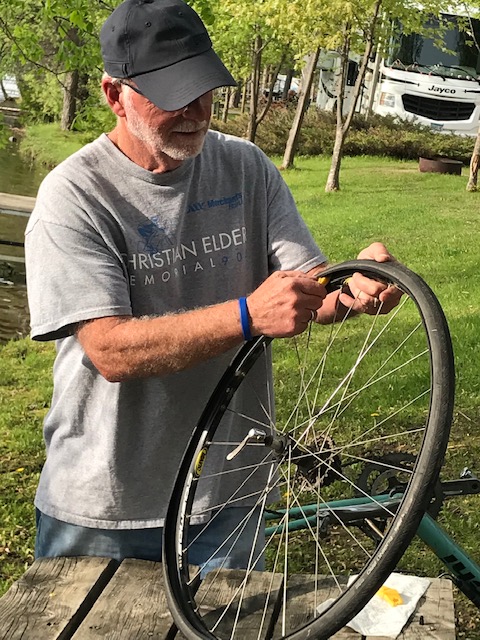 After watching the black clouds form around them, the team joined Jan and Dave for root beer floats—often an evening staple on past 900's, but the first this year. Shortly after returning to the mother ship, with everyone secure in their bunks, the rain and wind hit. The rain created a low roaring sound as it pounded down on the metal motorhome and trailer roofs—but after 62 miles, or in Jim's case 80, all were soon sound asleep.