Monday marked the beginning of the final three-day leg of the 2019 CEM900. It promised to be another perfect day, sunny and cool in the morning, warming to 80 by afternoon. The third leg team was assembled with John and Jack still riding, now joined by Jim Arbuckle on his bike and Jay Saterbak pulling support duty.
Jay's disposition was not as sunny as the forecast weather. Feeling the pressure of not only matching but exceeding the accomplishments of the prior support duty teams, he was devastated to find we had no eggs on board the mother ship. Without question his first breakfast offering of peanut butter and jelly on toast with cereal and sliced banana would have to be judged by other support personnel as substandard. The riders all consoled Jay, expressing that the no egg situation was a communication glitch that he could not be soley blamed for. He was on a mission to make amends before the day was over.
After four days of 11 am starts the riders, having elected to ride out to Park Rapids for a first break stop, got off to a 10 am start—or at least John did.  As usual, Batman Jack and Jim lallygagged in camp, while John took off on two wheels. Starting out about 15 minutes behind, they made easy work of catching him before arriving at the first stop.  John couldn't help expressing admiration at their effort, and expressed that if Jack is Batman, Jim must be Robin. Jay was on top of his game with sliced watermelon, meat sandwiches, and freshly made guacamole with chips.
A bit later during the ride, when John and Jim were pedaling together, Jim suddenly departed from John's side. Looking to his left, John observed Jim riding out a downhill, off the trail, mishap. Hanging on in true rodeo style, Jim flew downhill through high weeds, into small saplings, and over rocks before bringing his bucking bike to a stop. John suggested it was a case of distracted driving, and both agreed that it was a good reminder for riders to keep eyes focused on the trail.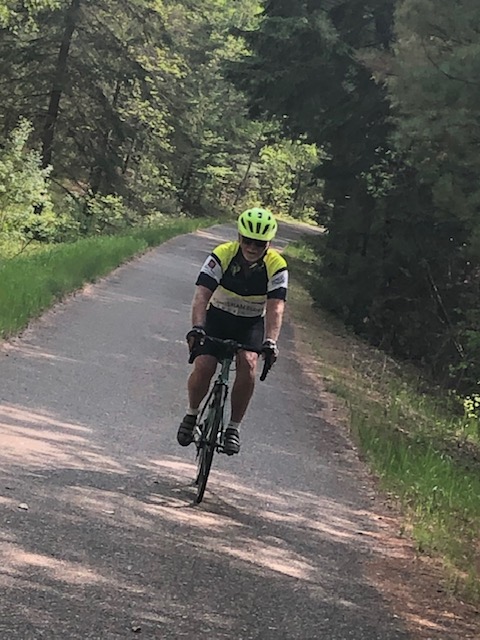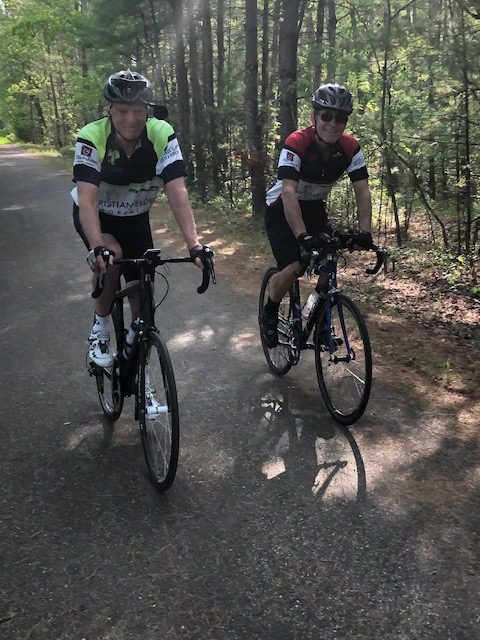 On the final out and back of the day, the riders cruised into the turnaround point to meet Jay; to their surprise they found he was joined there by Dave and Jan Belmore, from Kids 'n Kinship! Ready to take a few days off after celebrating the wedding of their daughter, Natalie, they chose to join the CEM900 team at Akeley for a couple of days. Privately the team wondered if Jan's presence was her concern that some oversite was needed with a possible lack of direction and leadership after the departure of Dennis Hill the day before. What they found was a fine tuned, highly motivated team riding with peak performance—and Jay pushing hard to come from behind in his support role.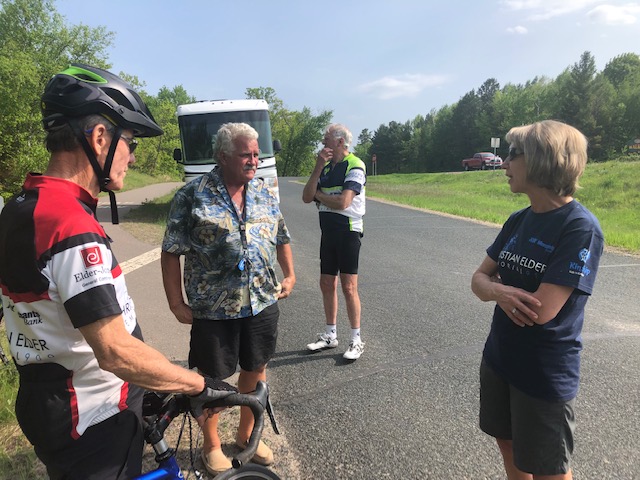 Dave apologized for not having their runabout boat in tow as it was his intention of docking it at the campsite and taking the team out for an evening cruise, but unfortunately the starter failed to work causing him to leave it behind. Later he was thanked for the 'almost boat' at the dock and how much the team enjoyed the 'almost boat ride.'
Despite the one hour jump to the day on the trails, it was 6:30 pm before the riders rolled back into camp, a bit tired, sweaty and ready for a good shower. While John was using the public shower facility, he was surprised when the door opened, and he was greeted by Paula, the camp host. With only a clear plastic shower curtain between them it was a rather awkward greeting and it was quickly determined that she would return later for shower cleaning. John now wonders what to say next time he greets her when buying ice!
Jay moved back up the support role charts with dinner—his famous St. Louis style barbecue ribs, enough for dinner and two days of lunch snacking. The team had a wonderful dinner together, joined by Jan and Dave. After, while Dave caught a few fish off the dock, the others enjoyed visiting around a campfire. Soon it was 9:30, and it was time for another early-to-bed.